According to the National Bureau of Asian Research, "India is the world's fourth-largest energy consumer and will likely overtake China in the next decade as the primary source of growth in global energy demand." The prediction is invariably an exhilarating one with regard to the economic future; however, many steps need to be taken before such expectations can be realized.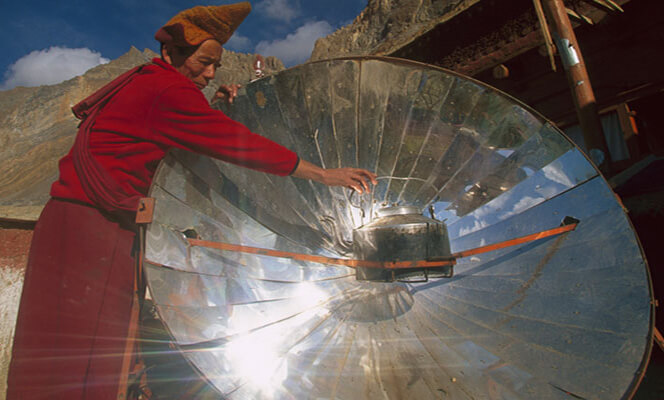 Despite the inevitable challenges that obstruct the path to transition towards greater sustainable energy solutions, the goal is not an unachievable one as there are opportunities that present themselves in the form of India's position as a tropical and densely populated country. The Ernst & Young attractiveness index for renewable energy places India among top destinations across the world, while KPMG predicts a rise in the prices of conventional power costs and a decrease in solar prices, with parity in 2017–19 or even sooner for the industrial and commercial consumers.
The National Action Plan on Climate Change (NAPCC), the energy policy launched in 2008, says that the country should produce 10% of its energy from renewable sources by the end of 2015, and 15% by 2020. A lot has been done towards that, and more needs to be done. Let's take a look at what our priorities should be in the coming future.
Gradual shift from fossil-fuel-driven energy economy to renewable energy forms.
Designing of incentive structures and regulations to transition to a high efficiency energy path that comes with short gestation periods and more returns.
Development of infrastructure that makes solar energy the key participant in satisfying national energy demands.
Investments in bio-based economy for rural belt and harnessing of locally-available energy sources.
Manage depletion of coal resources in an optimal way so as to buy time for switching over to a renewable energy economy.
Creation of talent pool to work in the national and international clean energy industries.
According to an Ernst & Young report, in emerging markets "renewable energy potential is attracting high levels of foreign investment, generating new jobs and creating local supply chains.... For investors, renewable energy assets are generating robust returns." India is one of the biggest emerging markets in the world at present, and it is likely that it will become the top market that foreign investors will want to invest in. The opportunity is certainly great, and therefore, the importance of achieving our renewable energy targets cannot be undermined at all.
What are your opinions on the role that will be played by the renewable energy sector in pushing India's growth? Do share.