The flower décor is the main attraction of your wedding, from the floral runners to the flower petal, everything sets a pleasing scenery that adorns the reception tables to the wedding aisle. Keeping these fresh and beautiful flowers to decorate the venue, the arrangements may appear good for a day or two but unfortunately, the freshness will not last long and these gorgeous blooms have a fleeing time. However, the succulents can find a new life. Don't go for the instant options always, you can create your own succulent pieces using your ideas, creativity and a simple habit of eco-friendly nature. These ideas of succulent plants can fit the rustic, barnyard, vintage, outdoor or go green theme weddings.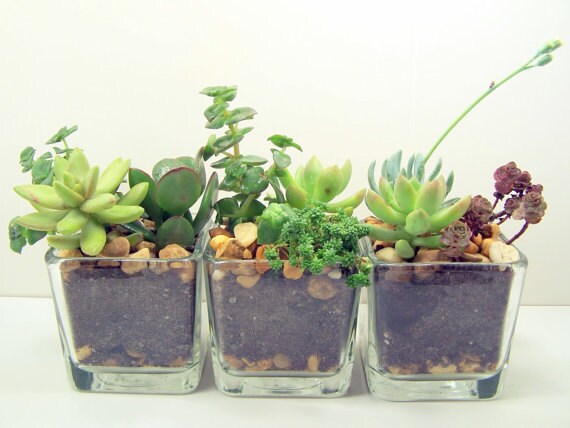 Now the point comes that what things we need to create these succulent centerpieces, create a living keepsake instead by making a pretty habitat for your wedding plants using:
Succulents

Potting soil
Bark
A cup of water
Layering materials like sand, dirt, gravels, rocks, sea glass, shells etc.
Clear glass vessels
A jug of water
A spoon
Steps to follow:
Firstly, create a base layer of dirt in your vessel, spooning in a layer in and patting it down so it's lightly packed.

Then fill the vessels with the layer of dirt, sea glass, rocks, bark. Fill it in a way (pour more than you think it requires) that it will appear thick from the outside.
Wet your hands and then grab a handful of potting soil to place it on the top of the bark. Water will keep the soil together. Use the spoon to carve the hole to plant the succulent in the glass vases.
Plant your succulents and fill it with more wet soil as much as needed to cover the base.
Decorate it anything like stone, sea shells, seeds, river pebbles etc. These succulents are ready to go with any wedding décor idea.
The ideas best match the succulents
You can use the wooden pellets instead, to give these succulents a fully rustic grace.

Decorate the reception table with white color candles and mini succulents and see the miraculous glimpse of the wedding eve.
If you believe in eco-friendly and reusable ideas, you can use recycled planters to plant the succulents.
The reception table covered with gold metal table runner look amazing with these mini succulent centerpieces.
You can use big and simple jars as well to beautify the venue.
You can make handcrafted succulent and its vases to embellish the marriage place.
These tiny succulents and your creativity can please your guests and add fun in your wedding planning activities.
Find some more wedding related posts and designer wedding cards at The Wedding Cards Online.