The north Indian state of Uttarakhand is home to many amazing hill stations and revered religious destinations. Nature here comes dressed in its most glorious forms offering one with some unforgettable, breathtaking views. Winters in Uttarakhand offers tourists with the incredible opportunities to explore the land anew. Vast expanses of terrain clad in snow, the Alpine conifers dusted with snow and the biting cold climate all collectively imparts one with an altogether different, unparalleled experience.
To add to the thrill of Uttarakhand winter tourism, tourists get to enjoy many adventurous sports and activities during the winter months. The best places to explore at Uttarakhand during the winter months include-
Auli

The hill station of Auli at Uttarakhand is a celebrated ski destination. Passionate skiers and adventure enthusiasts make their way to Auli every winter with the hope to enjoy some of the most thrilling adventure activities like Auli winter skiing, snowboarding, valley crossing, mountain climbing. Apart from being a popular adventure hub, Auli is also one of most beautiful hill stations gifted with a captivating abundance of scenic natural beauty. Cradled in the lap of the snow-clad peaks of Garhwal Himalayas, Auli offers one with the most panoramic views of lofty, snowy peaks, stunning vistas marked with intriguing dense forest covers, enchanting views of Oak-rimmed slopes. Auli is perched at an elevation of about 2800 meters above the sea level and is about 280kms away from Dehradun.
Nainital


Nainital, another very beautiful and perhaps the most popular among all other Uttarakhand hill stations bustles with snow lovers in the winter months. The hill station of Nainital is located at an elevation of 2084 meters above the sea level and is flanked by three mighty mountain ranges, namely Ayarpatha, Deopatha and Naina. A winter vacation trip to Nainital will enthrall you with the most amazing views of the snow-wrapped Nanda Devi peaks and the snow-clad hiking trails. As you stroll leisurely along the famous Naina Lake, you would definitely feel the sting in the cold breeze. This is thus another ideal Utarakhand destination to experience and enjoy the thrill of chill.
Mussorie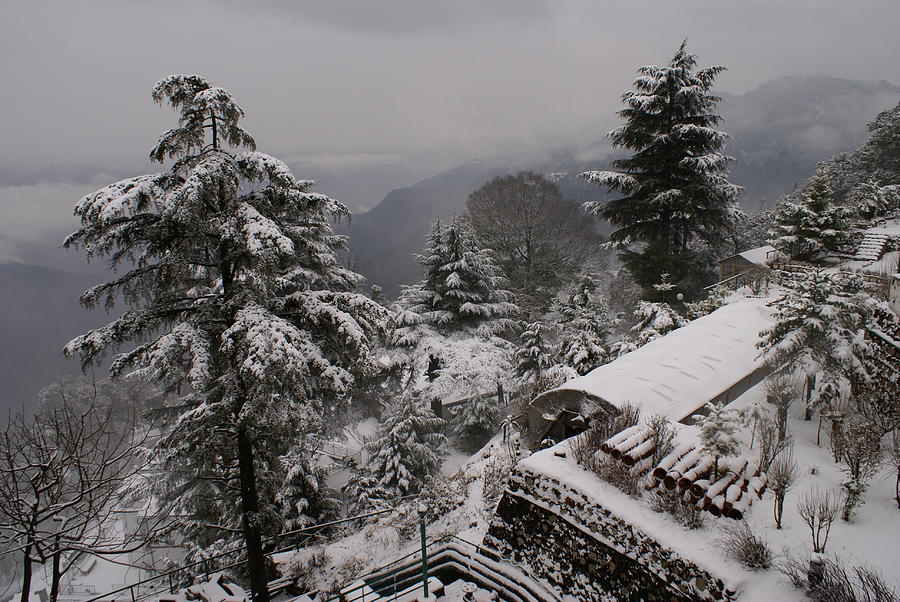 The 'Queen of Hills', Mussorie is a charming hill station perched amid the lofty peaks of Garhwal Himalayas. This picturesque hill station will simply fascinate you with the most captivating views of Shivalik ranges and the famous Doon valley. Mussorie falls in Uttarakhand's Dehradun district and is lodged at an elevation of nearly 1880 meters above the sea level. In the winter months Mussorie experiences snowfall and turns into an all-white wonderland. Tourists from all parts of the country throng the hill station in order to visualize and experience its wintry beauty. The must-visit places of Mussorie include Happy Valley, Kempty falls, Lal Tibba, Mussorie lake, Camel's back road, Jwala Ji temple, Gun hill, Christ Church and of course the Mussorie Mall
Dhanaulti

Dhanaulti, another splendorous hill station of Uttarakhand is cradled at an elevation of 2286 meters above the sea level and is only a 24kms drive from Mussorie. The beauty of Dhanaulti lies in its calmness, serenity and in the dark wooded hills covered with a dense growth of Oak, Deodar and Rhododendrons. If you visit Dhanaulti in the winter months, you would get to enjoy the beauty of Dhanaulti in its prime. The land below your feet is carpeted with a cover of snow and your eyes meet the dark green shades of the Alpine woods at the farthest horizons.
Munsiyari

With hoards of mountains, glaciers and cascades, Munsiyari is indeed a perfect winter holiday destination. This hill town is laid out along the banks of River Gouri Ganga and is replete with breath-taking beauties of Nature as well as challenging trekking trails. Thus Munsiyari is truly a paradise for nature lovers and seasoned trekkers.
So, it's time to pack your bags and set out for a memorable wintry trip to any of these destinations.