Inheriting a watch that has been in the family for a generation or two is a good thing. So is coming across a vintage watch made by one of the more prominent companies in the industry. The reason is because some used watches do more than hold their value. They can actually appreciate in market value as the years pass. Here are some of the ways you can determine if that used Graham that your grandfather left you in his will is worth more than sentimental value.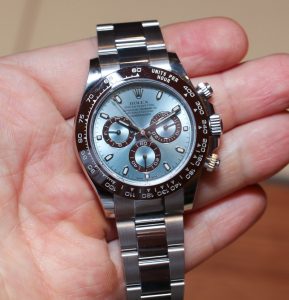 Vintage Versus Antique
One of the factors that will influence the market value of the watch is the age. Typically, collectors and others who prefer older watches will be on the lookout for antiques or at least vintage models. It pays to know the difference between the two.
In general, a vintage watch is one that is at least a quarter-century old and still in proper working order. An antique watch would be one that is over a century old. Both vintage and antique watches may be designed for wearing on a band around the wrist or kept in a pocket.
You will find that some sellers will apply both terms to a watch. This is usually true when the timepiece happens to be over a century old and the design is indicative of a certain era. For example, a Victorian era watch would likely be referred to as an antique with a Victorian vintage.
The Brand Matters
Age alone is not enough to ensure a watch has some type of monetary value. There is the matter of the brand. Certain brands are renowned for the quality of the workmanship and the durability of the designs. This means a used JaquetDroz or a Graham from several decades back is likely to be of interest to collectors because of the reputation of the makers. If you happen to have a watch produced by such a reputable brand, the odds of it being worth a great deal are much higher.
Supply and Demand Play a Role
As with any type of valuable object, the market value of your vintage or antique watch will depend greatly on the current market. Is the specific model one that is currently commanding a great deal of attention from collectors? Are there only a few currently being offered for sale or is it easy to find the same design and vintage offered by many different sellers?
When you have a watch that is rare and only a few are currently offered for sale, the value will increase. Should there be quite a few of them available, expect for it to bring less on the open market.
Keep in mind that just as with jewelry, the supply and demand for certain watches ebbs and flows over time. Your pre owned Jaeger LeCoultre might fetch only a little more than the original purchase price today could be worth considerably more in another year or two.
Purchasing older watches can be a great investment. Spend some time today checking into different models and designs. Compare the pricing and do a little research into the history of those brands. You could come across a watch at a great price today and acquire an asset that appreciates in value in the years to come.