With the summer almost upon our hands, many men realize that summer is not their time. It is well known that most recognisable styles of menswear descended from British military and noble fashion, but the main difference in their summer is that is significantly less hotter time of the year than anywhere on the planet. This becomes a problem to the majority of men and summer may be a rough time for them, so they ask themselves: What should I wear, then? If you are one of them, looking for an answer to this question, you are in the right place, because in the following few paragraphs you will find the solution to all your summer dress problems.
Summer trends
This summer trends demand statement stripes – no matter if you are at casual or formal events. This means polo T-shirts, trousers, trunks, socks, everything! Denim also stays for the summer, so a double denim duty will make you keep your look casual, yet refined. Just make sure to look for light fabrics that can allow your skin to breathe. And the best colour for this summer will be the blood-pumping red: crew neck T-shirts, shorts, you name it – what matters is that they are red!
General guidelines
There are three basic rules which basically give you the best idea what you should wear during the summer: light, clean and understated.
Light: Here, light does not refer to only light colours, but light fabrics as well. It is widely known that light coloured clothing does not attract the sun as much as dark. This is why a long-sleeved white shirt on a hot day will be much bearable than a dark blue or black one, which absorb light and make it unbearable under the sun. Make sure that the clothes you pick for your summer dress are made of natural fibres, such as linen, cotton, and a perfect one for formal summer events is tropical weight wool. The looser the fit, the better the airflow, so you will not have problems with sweating if you find clothes a full size larger than your body size.
Clean: Since there is no need to stress that your body has to be clean during the summer, at all times, and your hair and beard well-groomed, there is probably no need to stress that your clothes have to be spotless as well. Since our bodies perspire (men's bodies more than women's), this, however, does not mean that we have to look as if we just went out of a sauna. There is a general rule of thumb that if you sweat a lot during the summer – shower twice a day if it helps you cool your body. It is recommended that you use antiperspirants during the summer, since they prevent excessive sweating and leaving stains during the hot months. Menthol soaps can also help you keep the temperature down, and do not wear stained clothing, not ever. Wash your hair regularly, trim the excessive hair at the back of your neck, and opt for a close shave.
Understated: It is recommended that you wear quality clothing that fits your body size and compliments your figure in general (you can even try custom dress shirts that will fit you perfectly) – in order for it not to detract from your female company. Plan wearing understated dress codes that can compliment your companionship. If you need a change of clothing – bring it with you, there is nothing wrong with that. Try to avoid wearing swimming trunks during evening events (unless you are in a swimming pool, of course). Make your conversations friendly and be remembered for then, rather than for showing off in your fancy clothes and impertinent attitude.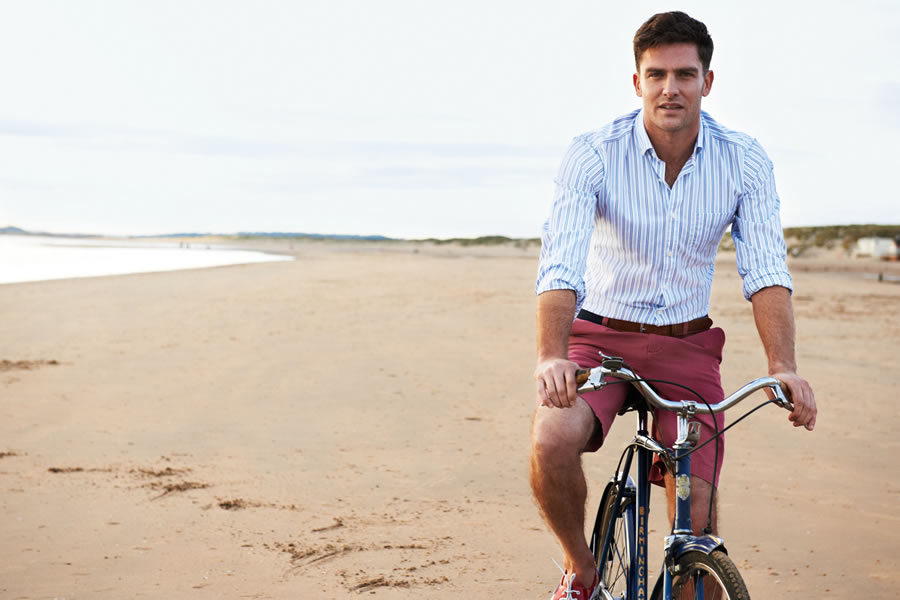 And finally, remember that a good gentleman will always have his garments clean, buttoned and in accordance with the event, so the wisest choices you can make this summer is to stay clean, keep the garments and colours light and wear lo-pro outfits that will not make you pop out from your surroundings. Let us know what you think about these combinations and leave your comments and suggestions in the comment section below.