This age of technology is marked by materialization of the unthinkable. Even a few decades back, internet was not even in the dreams of most of the people. But now people can't think of spending a day without it. And this is just an instance from an endless list of examples. If you look at 3D architecture, even a few years back it wasn't as big a craze as it is today. But it has now found its place in almost all walks of life.
Sometimes ago, 3D architecture was used to build houses. It is surely one of the most amazing uses of 3D architecture in recent times. The 3D printers, when stuffed with raw materials, were producing houses where people could actually live in. And now, the concept of 3D printing has moved forward a bit as well. It is now available in the automotive industry also. Recently, Local Motors, a major company in the automotive sector has also announced the creation of 3D printed vehicles. And the amazing thing is that these vehicles can actually be driven on the roads.
Assembling a 3D Printed Car within a Short Time
The concept of printing the 3D cars is akin to assembling different parts of a computer. In fact, these different parts are printed separately in the 3D printer. Then, a group of engineers are employed to blend all the parts into one. And the 3D printed car becomes ready. The manufacture of this car takes only about 44 hours. So, it won't be a problem even if someone wants to purchase the vehicle within a short notice. The 3D printed cars can be ready within a short time. Hence, most of the companies are expected to start adapting these 3D printing methods. It will ensure that more number of cars are manufactured on a regular basis.
Partly 3D Printed
It will be a mistake to assume that the whole car, which will be produced as the end result, will be 3D printed. The propulsion of the vehicle will come from an electric motor, which is derived from another car of a similar size. Moreover, different other parts of the vehicle are also not 3D printed. Some original parts used in the car include:
·Wiring

·Battery

·Suspension
The car is given a shape by an industrial robot that sprays sheets of similar kinds of fast hardening materials one after another.
Factories of 3D Printed Cars Coming Up
The popularity of the 3D printed cars is already pretty high. And it is expected to increase further in the days to come. Hence, different companies are already planning to manufacture these 3D printed cars in future. In fact, a number of them are also planning to set up the factories of 3D printed cars within a short time. So, one can expect that it won't be long before the roads are streamed by 3D printed cars, which will compete with the metal cars in numbers.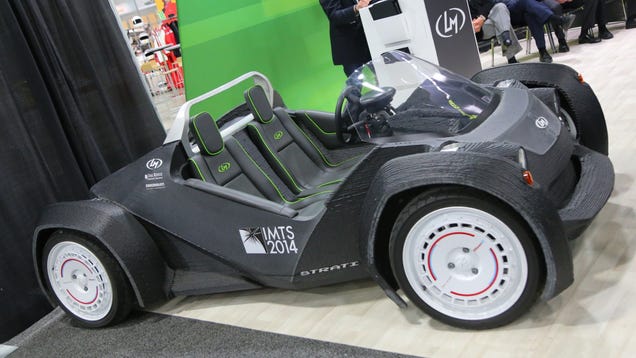 Why should You Go for 3D Printed Cars
In addition to complete 3D printed cars, different parts of the vehicles are also manufactured through 3D printing. It makes the manufacture of multiple parts easier than ever before. Moreover, these parts can also be easily assembled to give the shape of a new car. Moreover, the 3D printed cars are lighter in weight and can be handled with ease. Besides, they are also greener than the ordinary cars and hence, a favorite of the environment-concerned people. One of the major advantages of the 3D printed cars lie in the fact that they can be customized just the way you wish. You can create bespoke vehicles, depending on the requirements of the customers. They can design the models of their own cars and get it right at their doorstep within hours.
Technology with Wheels
In recent times, a lot of cars are being unveiled across the globe by different companies. When it comes to new cars, it's not only about their looks or durability. People are more interested these days about the technology that are integrated in each car. But the 3D printed cars take this concept a step forward, as the whole car is a view of the advanced technology of these days.
The 3D printed cars are being touted as the cars of the future. However, it remains to be seen if these amazing cars are able to take the space of their metallic counterparts anytime in the future.
Content share by Icreate3d.com an Interactive 3D Animation Company