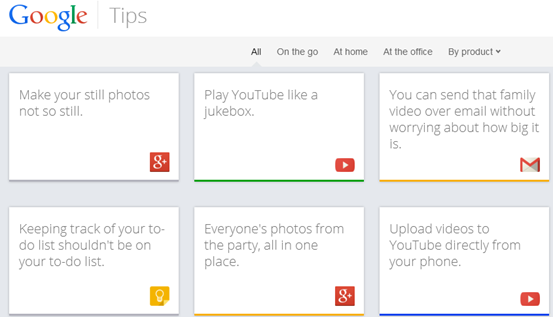 That's likely why Google just launched Tips, a site that uses its info card trope to help you dive more deeply into all 13 of its consumer products. For instance, if you choose Google+, one card suggests you can "make your still photos not so still," and reveals step-by-step instructions when you flip it along with each device it supports.
The site is broken into cards, Google's latest design style of choice, each of which offers a quick description and the option to flip over to learn more. Every card can be shared to Google+, Twitter, Facebook, and via email.
The site currently spans 13 products: Search, Gmail, Chrome, Android, YouTube, Maps, Docs, Drive, Play, Calendar, Keep, News, and Google+. All of them either require you to be signed in, or work better when you are, which is exactly the message Google wants to send. There are just over four pages of tips, and on the fifth page (as well as on the bottom) there's a suggestion box where you can tell Google what you think it should add.